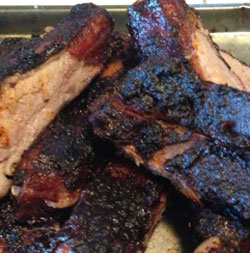 This recipe is easy and a great success on any backyard grill. A good rub in combination with a delicious mop or barbecue sauce makes the ribs good to present to any guest. A normal string of ribs is good for 2 big eaters or 4  people with smaller appetites. Because I remove the meat flap prior to cooking it will serve a maximum of three people. This meat flap cam be used later for my Shashliks from the Balkans.
Do you have a sucessful recipe? Can you make images and explain clearly what goes in your recipe and what the preparation steps are? Send it to us and we will be happy to post it on this website.
Spareribs with homemade Barbecue Sauce
Slice in between your ribs about one third on both ends. This way your rub will go in between the ribs and add more flavor.
Ingredients for the rub
½ cup packed brown sugar
¼ cup paprika powder
1 tablespoon black pepper
1 tablespoon white pepper
1 tablespoon cayenne pepper
salt to taste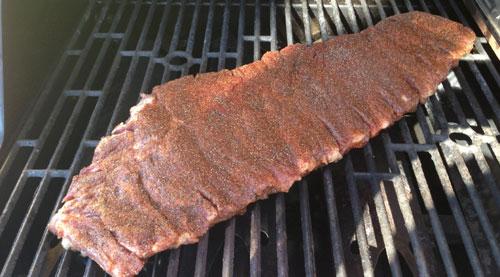 Mix your ingredients and massage them into the ribs. Put the ribs aside until you are ready to grill. It is best is to leave them over night but a few ours works also fine. Make in the meantime your mop.
Ingredients for the mop
1 tablespoon butter
1 onion
6 cloves of garlic, chopped
1 14 ounce tin of sliced tomato's, drainded
1 cup vinegar
½ cup molasses
½ cup packed brown sugar
3 tablespoons of worcesterchire sauce
2 tablespoons of chili powder
1 tablespoon of mustard powder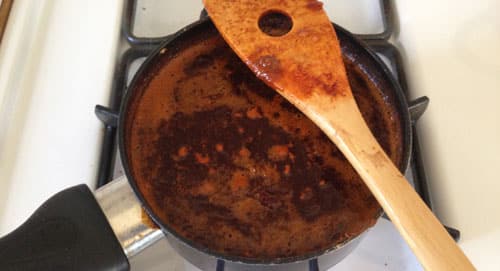 Soften the onion and the garlic in the butter and add the tomatos, vinegar and Worcestershire Sauce. Stir them together and add all the spices and the sugar. Bring your sauce to a boil and let it reduce until you have a nice thick barbecue sauce. If it is too lumpy for your taste you can smooth it out in the blender.
Because of the vinegar and the sugar this sauce should keep for several weeks in your refrigerator.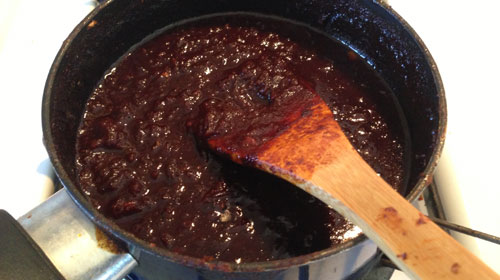 The grilling of your ribs
Preheat your grill to 250 Fahrenheit and only use your outside burners. Place your spareribs in the middle and let them cook for two hours.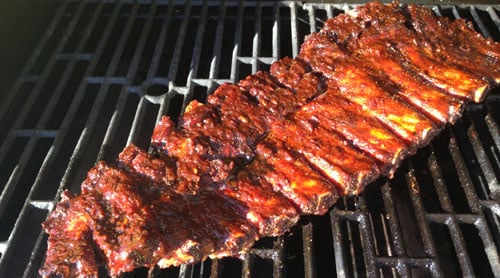 Then baste the ribs well with the mop, you should have enough so no need to hold back when applying it ….. Cook your spareribs another hour and baste them again. After one more hour (four in total) your ribs should be done. Check the temperature with a food thermometer. It should read a minimum of 160 degrees Fahrenheit.