*We may earn a commission for the purchases made using our links.  Please see our disclosure to learn more.
Navigating the world of cooking oils to find just the right one for your steak searing can feel like a tall order. Believe me, any old oil from the pantry simply won't do. Your top pick should not only withstand high heat but also impart a smooth, neutral flavor and come loaded with nutritional goodies.
Fear not; in this well-researched guide, I will walk you through 2023's top 9 standout oils for searing steaks. Are you ready to elevate your healthy yet mouthwatering steak dinners? Let's jump right in.
What Makes a Good Oil for Searing Steak?
There are a few key factors that make a good oil for searing steak, including its smoke point and heat resistance, neutral flavor profile, and nutritional value.
Smoke Point and Heat Resistance
Smoke point refers to the temperature at which an oil starts smoking and giving off fumes. Once it reaches this point, the oil begins losing its nutritional benefits and may give your steak a bitter or burnt taste.
Oils with high smoke points are typically recommended for searing steaks as they can withstand high heat without breaking down. This includes oils like grapeseed, refined avocado, and extra light olive oil that have smoke points of 400°F-500°F (204°C-260°C).
It's crucial, then, to consider an oil's smoke point when searing steak to ensure it doesn't compromise flavor and nutrition. On the other hand, heat resistance is another essential factor in selecting top oils for cooking steak since some oils perform better than others under varying temperatures.
For instance, avocado oil proves excellent for higher-heat cooking methods such as stir-frying. So, if you want to avoid the burnt flavor in your steak, choose the oil with a high smoke point. On the other hand, low smoke point oils are not recommended.
Neutral Flavor Profile
A neutral flavor profile is key when choosing the best oil for searing steak. This means the oil should not overpower or change the taste of your beef. The delight in enjoying a perfect, well-seared steak lies in its natural flavors – a rich meatiness with hints of caramel and sometimes even slight toastiness from the charred exterior.
Oils such as refined avocado and canola oil are ideal candidates because they add little to no extra flavor to your dish.
Keeping this principle in mind will guide you when using other oils like grapeseed, sunflower, or safflower – all renowned for their light taste that won't overshadow your steak's distinct palate.
This allows each carefully selected seasoning and marinade on your steak to shine through without conflict from an overbearing oil taste, achieving an excellent balance on the plate.
Nutritional Value
Choosing the right oil for searing steak isn't just about taste and smoke point. It's also about nutritional value. Health-conscious cooks might prefer oils rich in monounsaturated fats, like canola oil or extra virgin olive oil.
These heart-healthy options not only boost flavor but also supply essential fatty acids and vitamins. Similarly, avocado and peanut oil are excellent choices packed with beneficial nutrients that promote good health while cooking your steak to perfection. Whether you're looking for high heat resistance or an instrument to deliver a nutrient-packed punch, selecting the correct oil can make all the difference in your culinary adventures.
Top 9 Oils for Searing Steak in 2023
Quick Recommendation
Please feel free to check out our quick recommendation product list or simply scroll down for more detailed reviews.
Comparison Table
| Product | Price | Brand | Flavor | Liquid Volume |
| --- | --- | --- | --- | --- |
| Avocado oil | $21.30 | Chosen Foods | Avocado | 33.8 Fluid Ounces |
| Canola oil | $19.19 | Happy Belly | Canola | 128 Fluid Ounces |
| Grapeseed oil | $21.99 | Zatural | Unflavored | 32 Fluid Ounces |
| Peanut oil | $9.99 | Planters | Original | 23.97 Fluid Ounces |
| Olive oil | $15.98 | La Tourangelle | Organic Extra Virgin Olive Oil – Bright & Peppery | 25.4 Fluid Ounces |
| Coconut oil | $8.99 | Viva Naturals | Coconut | 500 Milliliters |
| Sunflower oil | $18.75 | Safya | Sunflower Seed,Sunflower | 1 Liters |
| Safflower oil | $15.69 | Eden | Safflower | 473 Milliliters |
| Clarified butter (ghee) | $25.87 | Kevala | Nutty | 32 Fluid Ounces |
1. Avocado Oil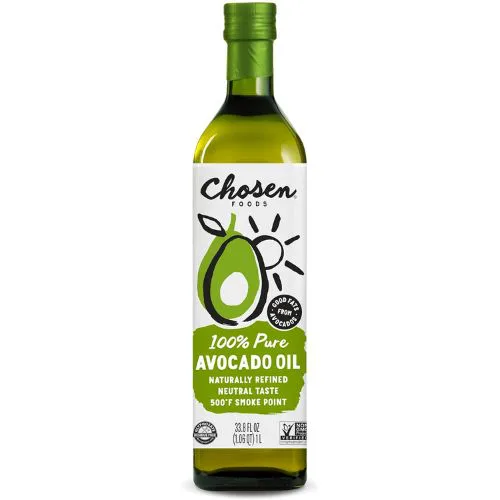 In our quest to find the best oil for searing steak in 2023, Chosen Foods 100% Pure Avocado Oil emerged as the top contender. This avocado-based cooking oil stands out due to its impressive high-heat threshold of up to 500°F smoke point, a feature that seals in flavor and results in perfectly seared steaks every time.
Aside from this standout characteristic, what impresses me most about this product is its versatility. It's not only an excellent choice for high-heat sautéing and flame grilling but also doubles as a dressing for mixed greens or even pasta salads.
Chosen Foods refined avocado oil isn't just about performance either; it's loaded with nutritional benefits perfect for those following Keto or Paleo diets. This oil boasts Vitamin E antioxidants and monounsaturated fats derived from avocados – a renowned superfood that makes every meal healthier without compromising taste. So far, it is best to cook steak in a cast iron skillet.
Moreover, this kosher-certified product is naturally refined without any GMOs, gluten, canola, or soy additives, making it an appealing option even for the strictest diet preferences.
Being both functional and nourishing gives Chosen Foods Avocado Oil a significant edge over other options on the market, but what really clinched our decision was its pureness – being 100% avocado-derived ensures you're getting all these aforementioned benefits straight from nature's kitchen.
Pros
High smoke point of up to 500°F for high-heat cooking
Naturally refined, wholesome, and delicious for a healthy eating lifestyle
Versatile oil that can be used for cooking, baking, dressings, and marinades
Contains good fats from avocados with antioxidants and monounsaturated fats
Cons
Expensive compared to other cooking oils
May not be easily accessible in all grocery stores
Some users may find the taste of avocado oil to be too strong
2. Canola Oil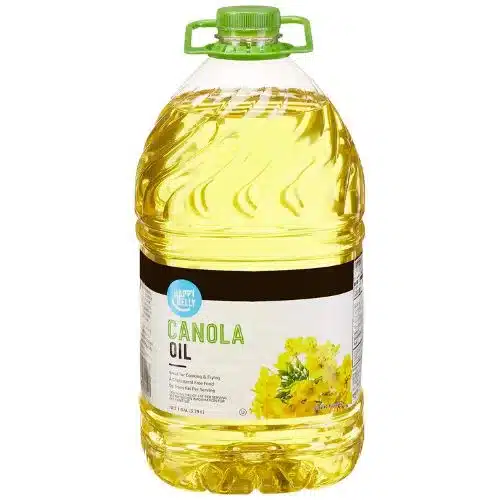 The Happy Belly Canola Oil from Amazon offers an excellent choice for those seeking a healthy option to sear their steaks. Its light flavor profile won't overpower your steak, allowing the natural savory goodness of your meat to shine through. This Amazon brand product boasts 0g trans fats per serving and is cholesterol-free, making it a great alternative for health-conscious cooks.
This canola oil's packaging highlights its ability to withstand high-heat cooking methods without smoking easily. This characteristic makes it an ideal pick for searing steaks, creating that perfect crust while keeping the insides juicy. Furthermore, at 128 fluid ounces per container, you'll have more than enough in your kitchen for multiple BBQ sessions or family dinners.
We've placed this Happy Belly Canola Oil as our number two pick because of its blend of quality and value for money. Not only does it offer fantastic performance when frying and searing foods, but it also contributes positively towards healthier food choices due to its low saturated fat content. The extra volume provided ensures long-lasting use, thus providing true value on each purchase worth every penny spent.
Pros
Amazon Brand, ensuring high quality and reliability
0g Trans fats per serving for a healthier option
Cholesterol-free food for better heart health
Versatile oil for cooking and frying needs
Cons
It may produce smoke if heated too high
Not suitable for those with allergies to canola oil
Packaging may vary, making it difficult to consistently purchase the same product
3. Grapeseed Oil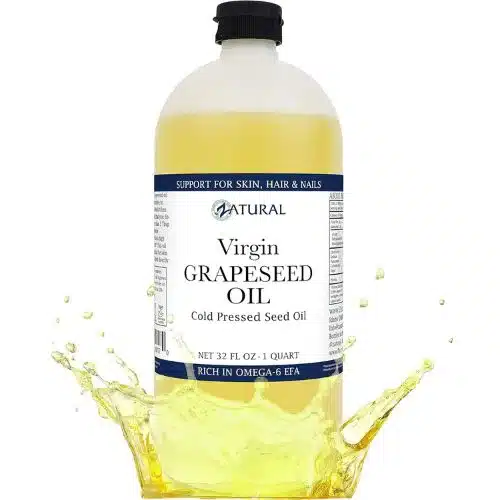 Grapeseed Oil-Cold Pressed, Virgin, Undiluted, 100% Pure Grape Seed Oil is a high-quality oil that easily ranks number 3 on our list. This product's features really stand out, starting with its ethical sourcing to ensure sustainability. The extraction process of this oil is commendable as it uses the cold-pressed method, which helps in keeping the natural properties intact. This alone serves as a huge selling point for health-conscious and eco-conscious consumers.
Now, let's dig into how versatile grape seed oil can be. Its usefulness extends beyond simply searing steak; you can even use it to moisturize your face and body or condition hair and nails – saving space in the kitchen and beauty cabinet simultaneously. Furthermore, thanks to its antioxidant-rich composition, packed with vitamin E, this Grapeseed Oil acts like an elixir for skin health- preventing premature aging by combating free radicals that damage skin cells.
Why do we love it? Despite being super nourishing for skin care purposes due to its non-greasy texture, this lightweight grape seed oil doesn't compromise when it comes to delivering great results in the kitchen either. It has proven itself while searing steaks flawlessly due to its high smoking point – locking in all those delicious juices and flavors without breaking down at high temperatures or adding any unwanted flavor of its own.
Pros
Ethically sourced and produced
Versatile use for face, body, hair, and nails
Helps reduce and prevent blemishes
Rich in antioxidants for healthy and youthful-looking skin
Cons
Limited size options (only available in a 32 oz pack)
May not be suitable for individuals with grape seed allergies
Some customers may find the scent of grape seed oil unpleasant
4. Peanut Oil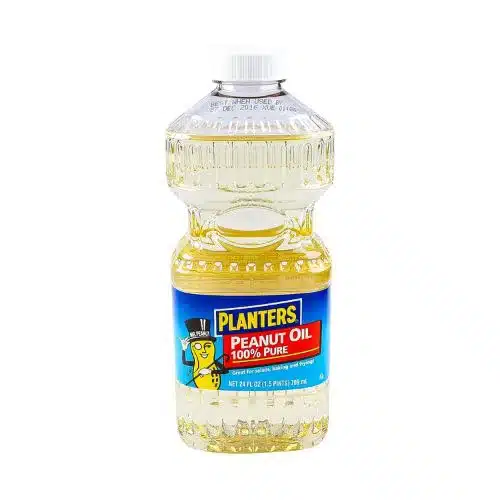 I've been using the Planters Peanut Oil for a while now, and it has significantly enhanced my culinary experiences. The product comes in convenient 24 oz plastic packaging, designed thoughtfully with dimensions that fit easily on any kitchen shelf without taking up much space.
The feature I appreciate most is its richness in flavor, which has undoubtedly taken my steak-searing game to another level. This peanut oil imbues your food with a subtle nuttiness that complements the taste of your meat rather than overpowering it. Additionally, this oil's high smoke point makes it an excellent choice for frying or sautéing, ensuring you can cook at higher temperatures without decomposing the essential oils and burning your food.
One possible downside might be if someone has peanut allergies, then this would not be suitable for them. Otherwise, whether you're cooking Asian dishes needing that distinct aroma or hosting a weekend barbecue party at home searing your favorite steaks -the versatility of Planters Peanut Oil is truly impressive.
Pros
The high smoke point makes it great for frying and deep frying
Adds a rich flavor to dishes
Contains heart-healthy monounsaturated fats
Versatile oil that can be used for cooking, baking, and salad dressings
Cons
May cause allergic reactions in individuals with peanut allergies
High in saturated fat and calories, it may not be suitable for those on a restricted diet or with certain health conditions
Some users complain about the taste or smell of the oil
5. Olive Oil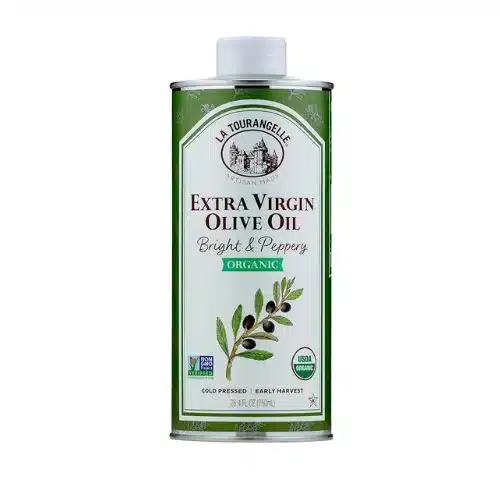 La Tourangelle Organic Extra Virgin Olive Oil truly stands out in the world of culinary oils with its superior taste, versatility, and commitment to sustainability. Sourced exclusively from organically grown Picual olives in Andalucia, Spain, this cold-pressed oil maintains a rich flavor profile featuring hints of freshly cut grass, almond, and fresh olive leaves. Its bright, peppery finish adds a unique flair to any dish, making it an ideal choice for searing steak.
Its production process is noteworthy as well; La Tourangelle's meticulous extraction method ensures low acidity and high quality. The olives are harvested early and then processed on-site within just two hours – a testament to their dedication to preserving the freshness and natural essence of each olive. Whether utilized for sautéing, baking or simply drizzling over salads, this organic extra virgin olive oil elevates every meal while promoting healthier cooking habits.
La Tourangelle not only brings you delicious flavors from around the world but also practices regenerative farming – showing they're as committed to our planet as they are to our palates. With each bottle purchased, you're supporting sustainable agriculture and artisan food crafters dedicated to producing natural pantry staples that simultaneously nourish our bodies and protect Mother Earth.
Pros
Flavors from around the world go straight to your kitchen.
Natural and sustainable ingredients.
Delicious and versatile for a variety of dishes.
High-quality taste derived from premium ingredients.
Cons
Relatively high price compared to other olive oil brands
Some customers may find the peppery finish too strong or overpowering
The bottle design could be more user-friendly, such as a pour spout for easier dispensing.
6. Coconut Oil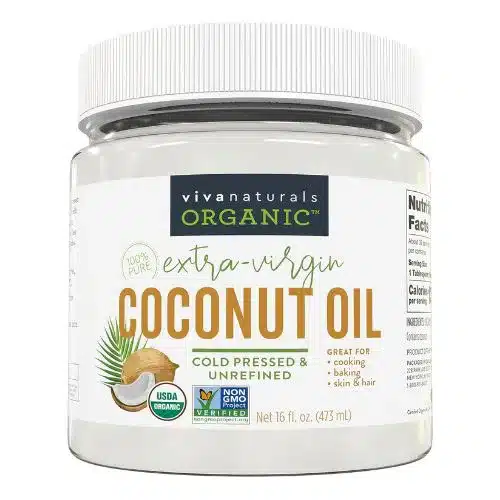 Viva Naturals Organic Coconut Oil stands out among its competitors, proving to be a versatile product for cooking and personal care. As a kitchen staple, it's an exceptional choice not only for those following keto, paleo, or gluten-free diets but also for anyone in search of a tastier alternative to olive oil or butter. With its high smoke point (350°F), this cold-pressed coconut oil is ideal for baking, frying, and sautéing. The rich flavor and aroma derived from fresh organic coconuts add a unique touch to all dishes.
Additionally, Viva Naturals offers more than just culinary benefits. This USDA-certified organic and non-GMO unrefined extra virgin coconut oil doubles as an effective beauty aid. Use it as a natural moisturizer that leaves skin feeling soft without any greasy residue, or apply it on the scalp for nourished hair with added shine—it serves both purposes perfectly well.
In the context of the best oil for searing steak, consider applying some Viva Coconut Oil on your steak before searing; you'll get excellent results along with healthier eating choices.
Pros
USDA-Certified Organic & Non-GMO Project Verified
Versatile for use in cooking, baking, and beauty applications
High smoke point makes it ideal for frying and sautéing
Naturally moisturizes skin and nourishes hair
Cons
May have a strong coconut scent that some people may not like
The packaging can be messy and hard to dispense without making a mess
Some users may find the price to be higher compared to other coconut oil brands
7. Sunflower Oil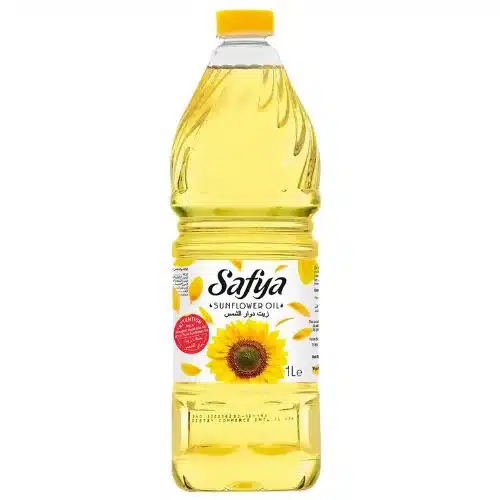 If you're on the lookout for a high-quality cooking oil that fares well under high temperatures, is light and healthy, and adds great taste to your meals, then look no further than Safya – 100% Pure Sunflower Oil. Its impressive 1 L volume ensures you have enough to experiment with various dishes, making it an essential asset in your kitchen. Notably, this product hails from Turkey and contains Vitamin E and polyunsaturated fatty acids known for their health benefits.
In terms of quality control and production standards, Safya Sunflower Oil sets the bar incredibly high. From field to table, every stage of production utilizes fully automated processes within a state-of-the-art vegetable oil factory owned by Aves Oil in Turkey. These stringent hygiene practices, coupled with its refined-wintered technique, result in an oil that is not only delicious but also provides excellent searing capabilities for steak cookery, aptly matching the context of 'Cook Steak Healthy'.
What sets Safya apart is its unique bottle design complementing its top-notch content. The inclusion of quality ingredients like pure sunflower seeds ensures a premium experience at each use – be it frying or sautéing vegetables or achieving a beautiful crust on your steak while retaining juiciness inside, making them one of the best options out there.
Pros
Made from high-quality sunflower seeds
Contains a high proportion of Vitamin E and healthy polyunsaturated fatty acids
The perfect option for high cooking temperatures due to its high oleic content
Non-GMO and 100% pure, ensuring premium quality
Cons
Contains a high proportion of polyunsaturated fatty acids, which may not be suitable for individuals on low-fat diets
May not be suitable for individuals with sunflower seed allergies
Packaging is only available in a large 33.8 fl oz size, which may not be practical for smaller households or occasional users
8. Safflower Oil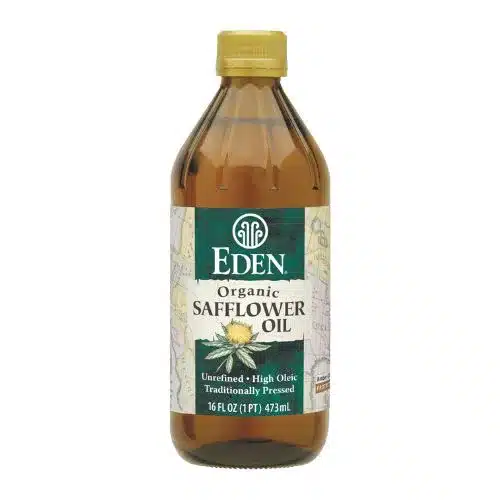 As a keen cook, I've often struggled to find the right oil for my dishes. It was quite a revelation when I came across Eden Organic Safflower Oil. Not only is this safflower oil organically grown and traditionally pressed, but it's also unrefined and highly oleic, making it an excellent choice health-wise. The amber glass packaging preserves its freshness while highlighting the premium quality of the product.
The versatility of this safflower oil shines through in cooking as well as baking. Whether you're prepping salads or searing steaks for dinner parties in 2023, Eden Organic Safflower Oil makes your dish delicious without compromising on nutrition. With 11g of beneficial monounsaturated fat per serving and being a good source of Vitamin E, this heart-healthy choice has helped me maintain my passion for cooking while keeping up with my health goals.
However, what truly sets Eden Organic Safflower Oil apart is that despite its high-quality attributes, it doesn't overpower other flavors in your dish – quite a feat for such an all-purpose oil. One time, I used it to sear some steak; not only did the meat brown beautifully, but it also retained its natural flavor profile perfectly. Peak grilling season may still be months away, but having tried various options before finally settling on Eden Organic Safflower Oil as my go-to option ensures my steaks will always turn out just right no matter what year we're in.
Pros
Can be used for salads, cooking, and baking
Traditionally pressed and lightly filtered to maintain the natural goodness of safflower oil
Contains a higher level of monounsaturated fats that are beneficial for heart health
Comes in a 16 fl oz amber glass bottle, which helps preserve the quality of the oil
Cons
May not be suitable for individuals with allergies to safflower or other related flowers.
Can be more expensive compared to other cooking oils on the market.
May have a higher smoke point than some other oils, which can lead to potential health risks if used for high-temperature frying.
9. Clarified Butter (Ghee)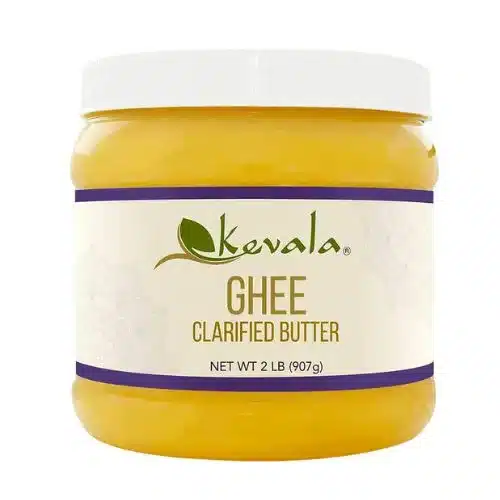 Kevala Ghee – Clarified Butter 2 LB (32 oz) is a standout product in the culinary world, particularly for those searching for healthier cooking options. Its high smoke point and rich flavor make it an excellent choice for baking, sautéing, and deep-frying. For instance, when searing steak, Kevala Ghee offers a distinct advantage over regular butter due to its higher smoke point; this means it won't burn at high heat and can create a perfect crust on your meat.
Not only does it excel in performance, but it also brings numerous health benefits to the table. As compared to regular butter, clarified butter contains no lactose or casein, which makes it suitable even for those with dairy allergies. Furthermore, it's packed with antioxidants and essential vitamins A, D & K that contribute positively towards overall wellness. The warm, nutty taste of Kevala ghee adds another layer of irresistible depth to dishes while being completely gluten-free.
Despite its liquid state during warmer weather conditions, refrigeration is not required as storing in a cool, dry place will solidify the ghee again while retaining all nutritional properties intact. By incorporating this golden spread into your routine, you are not just adding nourishment to meals but also bringing home a piece of India's ancient wisdom, considered as Mystic food used primarily for purifying mind and body.
Pros
Delicious and creamy golden spread
Gluten-free, lactose-free, casein-free
Contains natural linoleic acid (CLA) and vitamins A, D, and K
High in antioxidants and has a high smoke point
Cons
May liquefy in warm weather
Comes in a plastic bottle (BPA – free)
Nutty taste may not appeal to everyone
The Benefits of Using the Right Oil for Searing Steak
Using the right oil for searing steak offers numerous benefits, including achieving a perfect sear, enhancing flavor, and providing health benefits.
Achieve a Perfect Sear
Using the right oil for searing your steak is a game-changer. Oils with high smoke points, like grapeseed and canola, allow you to crank up the heat without the risk of creating an off-putting burnt flavor.
As you place your steak in that hot pan, it starts forming a delicious brown crust. This outer layer not only looks appealing but releases exquisite flavors every meat lover craves.
So choose wisely because with these oils on your side, achieving that perfect sear becomes easier than ever.
Enhance Flavor
Using the right oil can do wonders for enhancing the flavor of your seared steak. Different oils bring their own unique taste profiles to the table, creating a delicious and flavorful crust on your meat.
For instance, avocado oil adds a buttery and slightly nutty taste, while sesame oil brings a distinct aromatic flavor. Olive oil offers a fruity and earthy note, while peanut oil adds a subtle hint of roasted peanuts.
By choosing the right oil for searing your steak, you can elevate its taste to new levels and create an unforgettable dining experience.
Health Benefits
Choosing the right oil for searing steak not only adds flavor but also provides various health benefits. Olive oil, for example, is rich in antioxidants that can help lower cholesterol and reduce inflammation.
Avocado oil is another healthy option due to its high monounsaturated fat content, which is beneficial for heart health. Grapeseed oil contains vitamin E and omega-6 fatty acids that support immune function.
Peanut oil is known for its high smoke point and has anti-inflammatory properties. These oils not only enhance the taste of your seared steak but also offer nutritional advantages that contribute to a healthier cooking experience.
How to Choose the Best Oil for Searing Steak?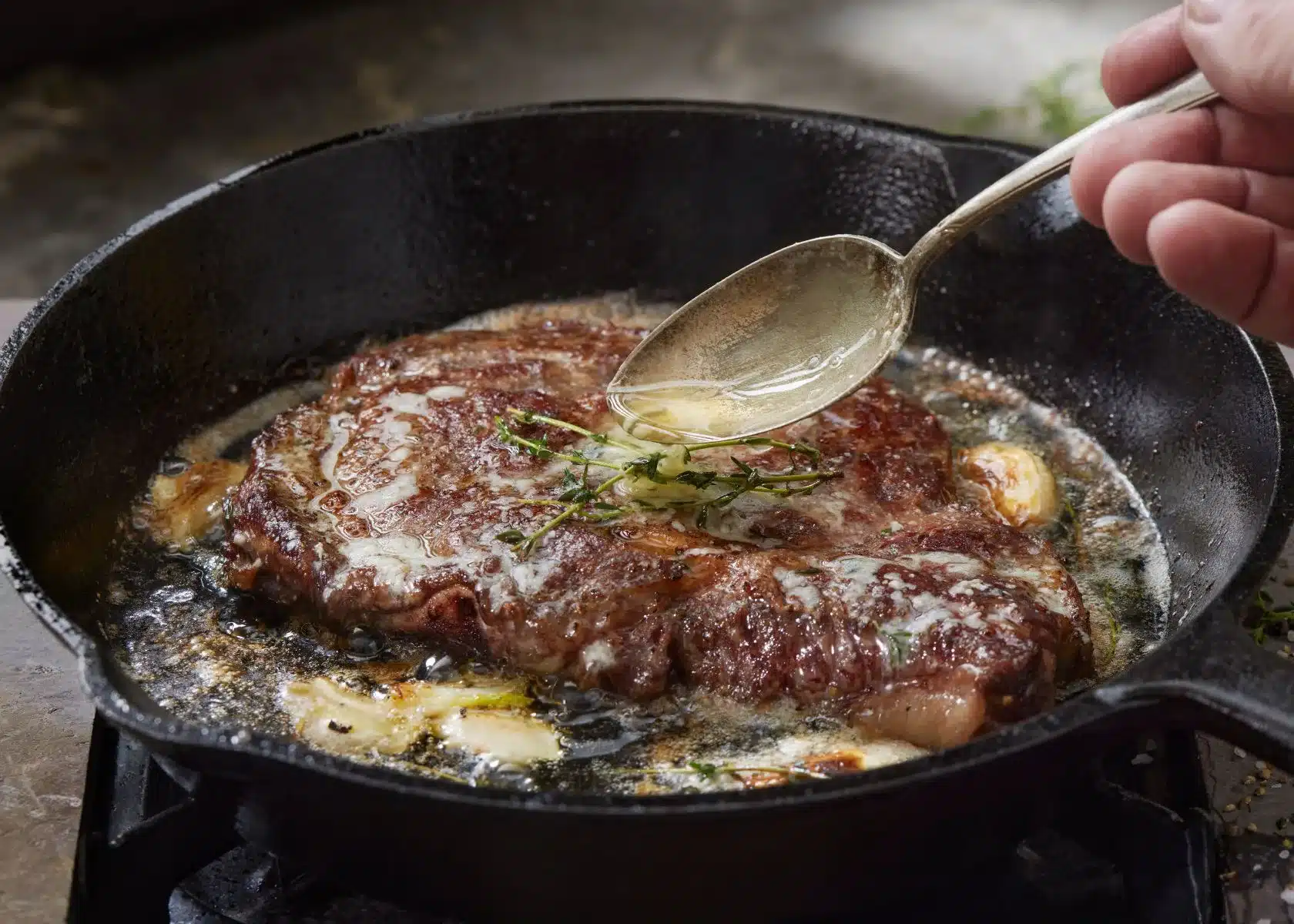 To choose the best oil for searing steak, consider factors like smoke point and heat resistance, flavor profiles, heart-healthy fats, and nutritional value.
Consider Smoke Point and Heat Resistance
To ensure a successful sear, it is crucial to consider the smoke point and heat resistance of the oil you choose. Higher temperatures are needed for searing steak, so opt for oils with high smoke points in the range of 400°F-500°F (204°C-260°C).
This will allow the oil to withstand the intense heat without burning or breaking down. Oils like grapeseed, refined avocado, and extra light olive oil are excellent options due to their high smoke points, making them ideal for achieving that perfect crust on your steak.
Evaluate Flavor Profiles
Flavor profiles play a crucial role in enhancing the taste of your seared steak. When choosing an oil, consider oils with neutral or complementary flavors that won't overpower the natural flavors of the meat.
Experiment with different oils to find one that suits your palate and complements your favorite seasonings and spices. Don't be afraid to get creative and try new combinations for a delicious, mouth-watering seared steak experience.
Look for Heart-Healthy Fats
Heart-healthy fats are an important consideration when choosing the best oil for searing steak. Oils like avocado oil, extra virgin olive oil, and sesame oil offer monounsaturated fats that can help improve heart health.
These oils contain beneficial properties such as lowering cholesterol levels and reducing inflammation in the body. By opting for oils with heart-healthy fats, you not only enhance the flavor of your steak but also prioritize your overall well-being.
Keep in Mind Nutritional Value
When choosing the best oil for searing steak, it's important to keep in mind its nutritional value. Some oils, like avocado oil and extra virgin olive oil, are known for their heart-healthy fats and beneficial properties.
Avocado oil is rich in monounsaturated fats, which can help lower bad cholesterol levels. Extra virgin olive oil, on the other hand, is packed with antioxidants that have been linked to numerous health benefits.
By considering the nutritional value of the oils you use for searing steak, you can ensure that your cooking not only tastes great but also contributes to a healthy diet.
Remembering the nutritional value of oils when cooking steak is crucial as it allows you to make choices that align with your overall health goals. Oils such as grapeseed oil and safflower oil are high in polyunsaturated fats, which are essential for maintaining good cardiovascular health.
Frequently Asked Questions
What is the best oil for searing steak?
The best oil for searing steak is one with a high smoke point, such as canola, grapeseed, or avocado oil.
Can I use olive oil to sear steak?
Yes, you can use olive oil to sear steak, but it has a lower smoke point compared to other oils, so be cautious not to let it burn.
How do I properly sear a steak using oil?
To properly sear a steak using oil, heat the pan on high heat until hot, add the oil, and wait until it shimmers. Then, place the steaks in the pan and cook until browned on each side.
Can I reuse oil after searing steak?
You can reuse oil after searing steak if it hasn't been heated above its smoke point and doesn't have any burned food particles in it. Strain it through a fine-mesh sieve before storing it for future use.
Are there any healthier alternatives to using oil for searing steak?
Yes, you can also use clarified butter (ghee) or coconut oil for searing steaks, as they have higher smoke points than regular butter or some other oils.
Conclusion
Now that you know the top 9 oils for searing steak in 2023, it's time to take your cooking to the next level. Don't settle for just any oil – choose from our recommended products: Avocado oil by Chosen Foods and Canola oil by Happy Belly.
These high-quality oils will not only help you achieve a perfect sear on your steak but also enhance its flavor. Upgrade your cooking game today and make every meal unforgettable with these top-notch oils.