*We may earn a commission for the purchases made using our links.  Please see our disclosure to learn more.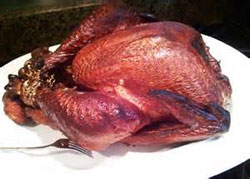 Smoking a turkey is not only an active and exciting way to spend time outside this winter, but your efforts will produce an absolutely delicious and juicy smoked turkey from a Turkey recipe that is fairly easy.
Follow the instructions for this smoked turkey recipe to have the best turkey you've ever tasted!
Ingredients for your smoked Turkey
1.25 cup salt
4 cups of hot water
½ lemon (or lime), thinly sliced ​​or squeezed
1 cup maple syrup
1 onion, medium, thinly sliced
4 cloves garlic, thinly sliced
1 tablespoon black pepper
5 bay leaves
4 cloves
1 gallon of cold water
1 Turkey
Preparation of your smoked Turkey
Pour the hot water into a large, deep stainless steel pot or plastic bucket , stir the salt through until completely dissolved. Keep stirring and pour the syrup into the salty water. Then add the lemon, onion, garlic and spices . Let it cool slowly so the salty water can draw all flavor out of the spices to maximize the brine.
Add the other gallon of cold water, and allow the brine to cool to room temperature or even better to "fridge" temperature .
Lower the turkey into the brine and make sure it is completely submerged. If necessary put a plastic bag or bowl filled with water on top of the turkey to make sure it is fully submerged . Close the lid and place in the refrigerator overnight to give it time to infuse .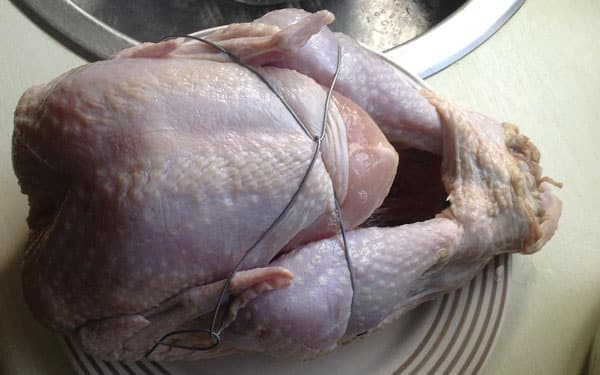 Soak your smoking wood over night in water so that it will not burn too fast. This is neccessary due to the high temperature of the charcoal while smoking.
Use about 5 to 7 pieces of smoking wood which are about three to five inches wide and  eight to twelve inches in length.
Remove the turkey after 12 to 14 hours from the brine ( it should not be too salty )
————————————————————————————————————-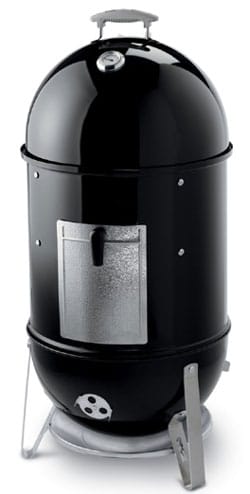 Weber Smokey Mountain Cooker/Smoker 
If you think about buying a smoker then I strongly recommend this Weber. The size is ideal for home use and the results are perfect.
Size: 18-1/2-inch-Wide Cooking Grates
This smoker can accommodate a whole turkey and an entire ham at the same time
Made of porcelain-enameled steel, this smoker comes with 2 nickel-plated 18-1/2-inch-wide cooking grates
Includes a water pan, thermometer, individual vents on bowl and lid, heat-resistant nylon handle, and cover
Measures approximately 19 by 19 by 41 inches; 10-year limited warranty.
Buy your Weber 721001 Smokey Mountain Charcoal Smoker
 at Amazon.
———————————————————————————————————-
The smoking of your Turkey
Prepare your smoker for indirect smoking . For this turkey I use no more than 14 to 18 charcoal briquettes on each side of my smoker .
Place a drip pan with a pint of water in it in the middle of the smoker. Some turkey lovers replace this water with beer or even white wine for extra flavor .
Once the briquettes in your smoker are glowing and a you have a layer of gray ash, you can add pieces of soaked wood to the glowing coals.
And as you do not want to make the turkey too salty or  too spicy, you never drench your turkey with smoky flavors .
TIP: Too much smoke or tar gives a bitter taste to the meat. So never add to much smoking wood, as it will work against you.
Place the turkey on the grill, with the chest down, right above the drip tray.  Brush the turkey well with melted butter and close the lid of the smoker .
Once you see a clear plume of smoke coming from the vents you can almost close the vents under the coals. The vents at the top of the lid of the smoker should always remain fully open.
While smoking no more than a hint of light blue smoke should be coming from the smoker .
Use the vents under the coals to regulate the temperature and make sure your fire does not go out!
Smoke your turkey to an internal temperature of 165 degrees F. This means that the coldest part of the turkey is 165 degrees F. Test in at least two places (or more) and remember that turkey bones heat faster so keep the thermometer away from bone. Also, dark meat should be cooked to a higher temperature so worry about the breast, but make sure to check the thighs as well.
Run the smoker at temperature range of 235 degrees F to 250 degrees F. Plan on 30 to 40 minutes per pound.
Brush the turkey while smoking every 45 minutes with melted butter .
TIP : Use the brushing time to check whether the coals are still adequate. When in doubt,  add six to eight burning charcoal briquettes to each side .
If your turkey becomes too brown and if the wing tips or the ends of the legs seem likely to get too dark,  then cover your turkey loosely with aluminum foil.
Turn your turkey, about 30 minutes before it's done, with the chest side up to give the bird an evenly browned surface
TIP: Look for more info on cooking thermometers on the special page How to use a meat thermometer
When the turkey is cooked,  place it on a cutting board or in a warmed shallow dish, cover it loosely with foil,  and let him rest for twenty minutes before carving. This gives the moisture and heat an opportunity to distribute in the flesh, and it will make your smoked turkey taste even better!