*We may earn a commission for the purchases made using our links.  Please see our disclosure to learn more.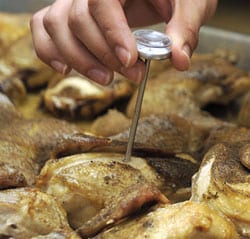 Making sure that your meat has reached the proper temperature you want is essential for cooking successfully.
The amount of food that gets wasted because it is overcooked is huge. Even more important if you want to avoid contracting food borne diseases. Believe it or not, but every year many people die or are hospitalized because of food related diseases. And all of that could be prevented with a good working food thermometer.
What do I use the cooking thermometer for?
You can use it in all cooking applications: Taking temperature of soup, cakes, cookies, liquids, steak, chicken, salmon, bass, catfish, baby food, ice cream, milk, vegetables, rice, steam, tea, coffee, pie, hamburgers, hot dogs, noodles, spaghetti, pizza,  apples, grapes,  beer, wine, juice, sauce, toppings, frosting, cheese-making, sugar, spices,  broiling, grilling, potatos, chocolate, candy, meat, and deep frying.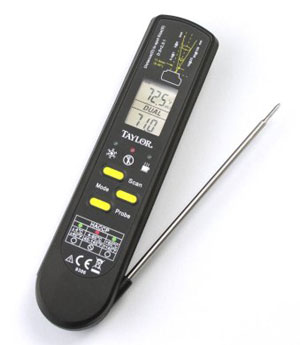 Taylor Splash-proof Dual Temperature Infrared Thermocouple Thermometer is a safe, non-contact device that measures surface temperatures. It is not the cheapest, but surely one of the best.
It features a 4 inch fold out probe that measures internal temperatures and has an infrared range from -67 to 482 degrees fahrenheit and -55 to 250 degrees celsius.
It has a thermocouple range from -67 to 626 degrees fahrenheit and -55 to 330 degrees celsius
Other features include a white light targeting illumination zone, a HACCP check warning light system and adjustable sensitivity.
Buy your Taylor Professional 9306 Dual Temp IR/Thermocouple Thermometer
 at Amazon.
What kind of people use a cooking thermometer?
Professional cooks, cafeteria workers, bartenders, restaurants, home kitchens, public schools, culinary schools, beginner chefs, sues chefs,  kids, BBQ competitions, moms, dads, sisters, brothers, grandma, grandpa, Santa, and the Easter bunny… and so on.
What kind of cooking thermometer do I need?
That is a question that is hard to answer. The type of thermometer is a matter of taste and is also based on the use you have for it. Some people use it a lot outside of the house or while camping. In those cases I would go for the pocket cooking thermometer. If you do a lot of big meat cuts in the comfort of your house where you do other things in between then you might want one that gives off a signal to let you know when your meat is fully cooked.
Think about the use that you will have for it. Maybe you'll find that you want both types. Everything is possible. Have a look at the small film and see how you can use the two types of cooking thermometers.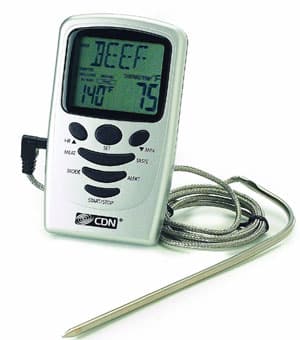 Digital, programmable thermometer; high-heat, stainless steel probe and cable
Great for roasts, barbecue, candy-making, and deep-fat frying
Check internal food temperatures without opening oven door; alarm sounds when food is done
Runs off a single AAA battery (included)
Measures temperatures from 32 to 482 degrees Fahrenheit (0 to 250 degrees Celsius) Buy your Programmable Probe Thermometer
 at Amazon.
If you are buying a food thermometer then ask yourself the following questions:
– Do I need a huge temperature range? Am I also using it for ice cream or baking cakes?
– Do I need one with a certain grip? Do I work with gloves on or do I have big hands.
– Do I need to carry it around with me? Am I using it while camping or at home?
– Do I like to have a timer? (some digital thermometers also have handy built-in timers with an alarm)
– Can I buy a cheap one. How often do I use it. The more expensive ones last considerably longer
Does my meat get dry if I puncture it with a Cooking thermometer?
The answer to that is simple: NO. Unless you are planning to repeatedly stab your steak with your new toy there will be no problem whatsoever. Some juice might come out of the puncture hole but your meat is 75% liquids, so three drops lost will not harm your meat.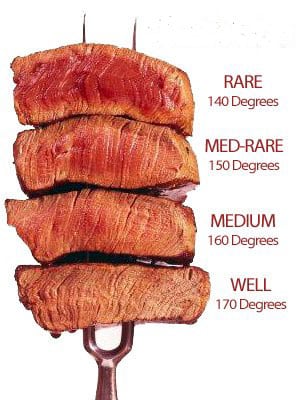 TIP> Look for more information on how to cook your perfect steak with the use of the cooking thermometer on the 'How to cook a perfect steak' page.