*We may earn a commission for the purchases made using our links.  Please see our disclosure to learn more.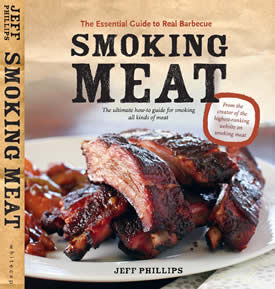 Smoking Meat: The Essential Guide to Real Barbecue Is a must read yout the BBQ Dad!
As we know, the best barbecue taste comes from mastering the art of slow-cooking at a low temperature over a long period of time. Add some smoky wood flavor and we have a big success with Smoking Meat: The Essential Guide to Real Barbecue.
Jeff Phillips shares his experience with step-by-step instructions on how to choose, set up, and modify your own charcoal, gas, or electric smoker, Jeff guides you through your smoking session with the kind of patience that is unique to an experienced pit master. The photos help you to understand not just the finished product but the practices and equipment needed to become an effective smoker of meat. This book is surely a big help to the beginner, but I have to say that the depth of the content that makes it so useful for an advanced smoker could easily prove daunting to a novice.
Once you've chosen your smoker and got the knack of some basic techniques, Jeff helps you to cut loose and experiment to develop your own smoking style.
For someone with experience with cookbooks, or smoking, this is a great recipe resource. While it contains clear instructions, I think it lacks "soul" I miss the emotional component, the feeling that a successful recipe brings. The fact that he wants money for his rub used on his website smoking-meat.com says it all.

Who is Jeff Phillips?
Jeff Phillips was fascinated by living off the land, surviving in the wilderness and cooking his own food outdoors on a wood fire from a young age. In his years as a student he further mastered his skills on a small grill. He loved to spend his evenings cooking and experimenting. Fun was the key.
Years later, a friend gave him a strange cooking device. It had no instructions with it, but he was determined to learn how to use it.
It didn't look like the grills he had been using, but had two pans, two cooking grates and a dome shaped lid with a simple thermometer.
After a bit of research, he discovered it wasn't a grill at all, but a "smoker" that used real wood to create smoke which flavored the food. From that moment on he experimented with ribs, burgers, vegetables pork chops, and other meats until it dawned on him that he had a knack for this smoking thing.
Cooking for his family branched out to gatherings with friends and he even catered events.
A passion was born
Smoking Meat: The Essential Guide to Real Barbecue