*We may earn a commission for the purchases made using our links.  Please see our disclosure to learn more.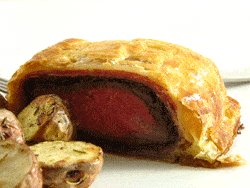 Beef Wellington is a meat dish of steak coated with pâté and/or duxelles. This gets wrapped in puff pastry and baked in a hot oven.
Use a whole tenderloin for the best result. The tenderloin is the most tender cut of the whole animal, it comes from the inside of the back. Many spices may be added to enhance the flavor. Feel free to experiment with spices like curry, allspice, grilling mixes or ginger.
The beef is seared, then topped with either Foie Gras (Goose paté)' and/or Duxelles, wrapped in puffed pastry and finished in the oven.
"Wellington" is sometimes informally used to describe other dishes in which meat is baked in a puff pastry; the most common variations are sausage Wellington, lamb Wellington and salmon Wellington.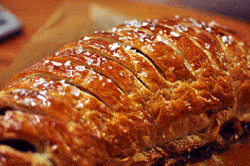 History of Beef Wellington
The history of the beef wellington is not completely clear. One thing for sure is they all point back to France at the time of Napoleon. Most sources claim that the national hero Arthur Wellesley who was made the first Duke of Wellington after the defeat of Napoleon at Waterloo in 1815, had a special love for this dish. So by returning to England it was named after him.
Since the French have a similar dish named 'Filet de Boeuf en Cro-te', meaning beef in pastry, one can assume that the original recipe goes even further back.
There is absolutely no proof of the origin of the name – the earliest recorded recipe to bear this name appeared in a 1966 cookbook.
About making Beef Wellington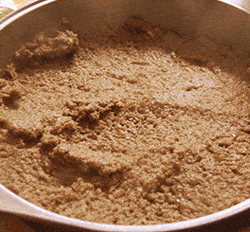 Duxelles is a mixture of blended mushrooms and flavoring ingredients. Try if possible to get your hands on some wild mushrooms, as they have more flavour. A touch of truffel is the best, but not many people, including me, can afford to use them.
Puff pastry is a nightmare to make yourself. Check your favorite grocery store for fresh readymade puff pastry. Make sure to take it out of the cooler or if frozen to thaw before use.
Most people have problems getting the duxelles and the pastry neatly around the beef. This is why I follow the method on the video below. Simply follow the instructions and your dinner party will be a great success.
Beef Wellington is traditionally served with madaira sauce, red wine sauce, sause bearnaise or colbert sauce.
This recipe uses Prosciutto, which is an Italian dry-cured ham that is usually thinly sliced.
To make sure your Beef Wellington becomes a great success and to avoid disappointment you have to get yourself a meat thermometer. Go to: How to use a food thermometer for mor detailed information
Really there is absolutely no reason why you should not try this classic dish.
Ingredients  for  Beef Wellington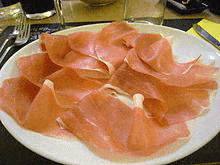 a whole tenderloin
some olive oil
9 oz mushrooms
1 teaspoon thyme
1.2 cup dry white wine
12 slices prosciutto
8 oz puff pastry
some flour
2 egg yolks
Preparing your Beef Wellington
Rub one tablespoon of oil on your tenderloin and season it with pepper.  Sear your meat in a hot skillet and set it aside.
Chop the  mushrooms very finely. You can use a food processor to do this, but make sure you don't mush them completely.
Heat some olive oil in a pan and fry the mushrooms on a medium heat. Add the thyme and bake until soft and most liquids are evaporated. Season the mushroom mixture with pepper and salt and add the white wine. Cook while stirring until all the wine has been absorbed. The mixture should hold its shape when stirred. Set your duxelles aside for later use.
Place to large pieces of cling wrap over your work space. Make sure they overlap. Carefully drape the 12 slices prosciutto on the cling wrap. Make a double row and let them slightly overlap. Spread your duxelles over the prosciutto. Use the cling wrap to draw the prosciutto around the filet (watch the video to see how it works). Then roll it into a sausage shape, twisting the ends of cling wrap to tighten it as you go. This method gives you a beautiful evenly shaped result. Put your filet in the refrigerator to stiffen it up a little and roll out your pastry.
Dust your work surface with flour. Unfold your ready for use puff pastry or roll out a piece into a rectangle big enough to roll your meat in. Unravel the filet from the cling wrap and set it in the center of the smaller strip of pastry. Now carefully wrap the puff pastry around your meat roll.  Press the sides in well. At this point you can take a break and if neccessary save your beef until the next day. Just roll it again in cling wrap and keep it refrigerated.
Preheat your oven at least 20 minutes before baking, positioning a rack in the center of the oven and heat the oven to 475°F.  If you have prepared your Beef Wellington a day ahead then  let it sit at room temperature for 1 hour before baking
Brush the Wellington with the beaten egg. Using a sharp knife, score the surface of the pastry with diagonal lines, being careful not to cut all the way through the pastry. Put the Wellington in the oven and immediately reduce the temperature to 425°F. Roast for 10 minutes, then reduce the heat to 400°F and roast until an instant-read thermometer inserted into the center of the Wellington registers 135°F  for medium rare, 20 to 25 minutes. Transfer to a carving board and let the Wellington rest for 10 minutes. Best served with Madeira Sauce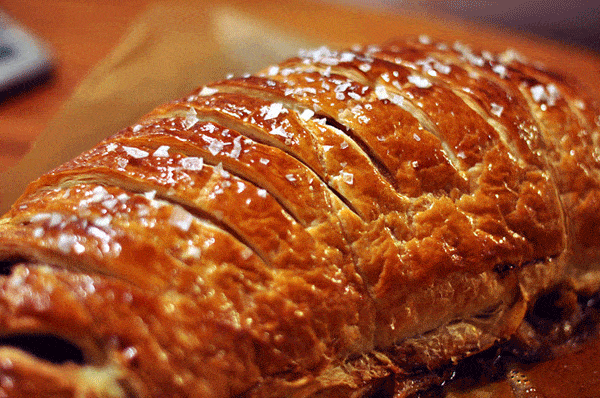 If you think that the tenderloin is beyond your budget, than visit the page on tenderloin and learn how to clean one. That way you can enjoy a tenderloin for a third of the price.
How to clean a tenderloin.